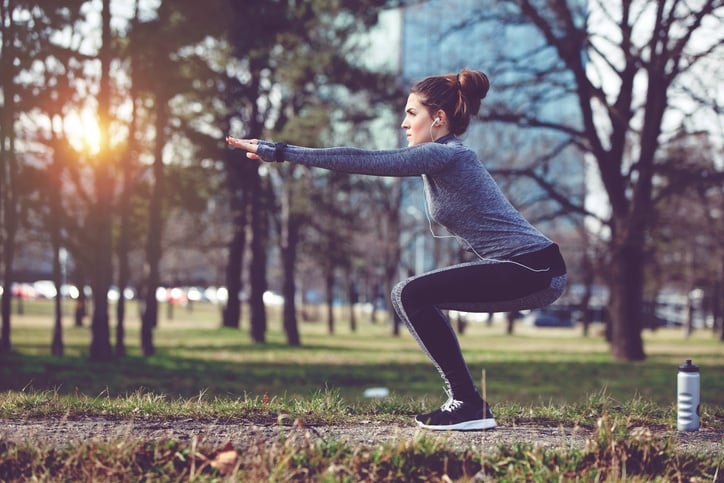 When you hear the word stretch, you might think immediately about flexibility (or perhaps your lack thereof). Flexibility was always the term used for enhancing limited movement, until the word mobility arrived and took the fitness industry by storm.
As a NIFS Health Fitness Instructor for five years now, I've spent plenty of time in and around the fitness center using these terms. Whether I'm speaking to a client regarding their goals or sharing instructions on warm-up drills, these two words often get used interchangeably; however, they are not identical.
An Exercise Example to Illustrate the Difference
Generally speaking, flexibility can simply be defined as the greatest length a muscle can achieve during a range of motion (ROM), passively or actively. Mobility also requires achieving a certain ROM, but it also requires coordination and core strength to move around the joint under load.
Let's examine a front squat to help make this clear. A flexible person may reach the deep squat position, enabled by the flexibility in ankles, knees, and hips, but then lack the mobility (coordination and core strength) needed to correctly complete the exercise by standing up. Similarly, without flexibility, that person wouldn't even begin to reach the range of motion needed for the deep position required for the front squat, so mobility isn't even a factor without the proper flexibility.
The Affects of Age
When it comes to flexibility and mobility, age is definitely not on our side. As we age, we lose the elasticity in our muscles, and the tendons and ligaments tighten, making flexibility hard work. It's not until someone suffers from poor movement patterns resulting in limited functional movement that causes injuries for someone to start trying to combat the effects of aging. (You can learn more about your own condition by having a Functional Movement Screening at NIFS.)
Movement vs. Static Hold
Lastly, when looking to improve and enhance these two concepts, mobility requires movement, whether we are testing for it or training to improve it. On the other hand, flexibility is done more often with a static hold. It's safe to say that you could have excellent flexibility (the length of muscles required for a deep squat) but very poor mobility because you do not possess the ability to stand up out of a deep squat position under load.
Let me share with you a few helpful movements to further differentiate between these two concepts:
| | |
| --- | --- |
| Flexibility | Mobility |
| Elbow to instep | Elbow to instep w/ oscillation |
| Half-kneeling ankle | Ankle moving in and out |
| Knee hug | Hip drop |
Be sure to stay tuned for part 2 of this series as I discuss the important addition of stability to your movement patterns.
This blog was written by Cara Hartman, NIFS Health Fitness Instructor. To find out more about the NIFS bloggers, click here.