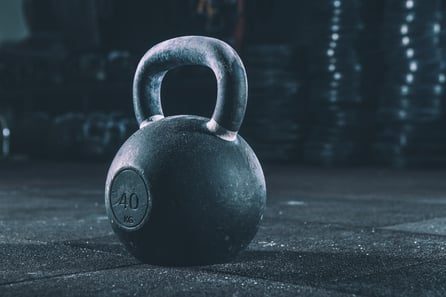 The Russian kettlebell is unique among exercise tools. It is an offset-handle weight that travels easily between the legs in a pendulum movement that can be easily seen in the kettlebell swing (two-hand and one-hand swings). If done correctly, the hips hinge straight backward as if you were trying to push a swinging door open while holding a tray. If you squat, even a little bit, there is little rearward movement and the door doesn't open. Hip power is lost.
The Swing
When I teach future kettlebell instructors, I spend 2 and a half hours on teaching the swing. It is that complicated, and as you will see, that important. Hopefully, a future instructor can take that information and skills and teach a client how to do a reasonable swing in 10 to 20 minutes, reasonable enough to get through a workout. Regardless of how long someone has been lifting kettlebells, their swing skills can always be improved.
That hip hinge swing movement is used for kettlebell cleans and for the glamour lift, the kettlebell snatch. Without proper swing skills, it is impossible to progress very far into the art of kettlebell lifting and to truly get the unique rewards of kettlebell lifting.
Weight Exercises
Kettlebells are a weight and can be used for typical weight exercises—sometimes successfully, sometimes passable, and many times just plain head-shaking stupid. What most people miss is what the Russians discovered a long time ago. In one-on-one athletics, the first athlete to fatigue is likely to lose. In military hand-to-hand combat, the first soldier to fatigue is likely to die. The repeatable hip hinge–based movements (swings, cleans, snatches, clean and press, clean and push press, and clean and jerks) are tremendously effective in building strength/endurance, and work capacity. The variables are time of lifting, reps per minute, and of course the amount of weight used.
Tasha Nichols, a group fitness instructor here at NIFS, won her 58Kg weight class in Dublin, Ireland 2015, doing the one-arm snatch for 10:00 (hand switch at the 5:00 mark) with a 16kg KB with a total of 203 repetitions. The time was 10:00, averaging just over 20 reps per minute, and the weight was 16kg (35.3 pounds). That is work capacity!
Work Capacity Kettlebell Workout
Here is a little workout to give you an idea what work capacity training feels like.
Maxwell Circuit
Swings: 15

Goblet Squats: 5

Push-up: 5

One-arm row: 5/5
That is 1 round and the workout is a minimum of 8 rounds and a maximum of 15. Rest long enough to complete the next round but no longer. Swings can be done with a dumbbell if a kettlebell is not available. Be careful when holding a dumbbell by the bell end. It can slip.
Block off the space you're using to swing anything. Children and pets can walk in when they are least expected
Goblet Squat is done with the weight held at chest level. If this bothers your shoulders, hold the weight at arm's length between your legs but be sure to actually squat. Do not allow it to become a sloppy deadlift.
Kettlebell Training

Training with kettlebells properly, anyone can seriously improve their strength and endurance. Like most activities, you must put in the time to practice and get better to see real results. Interested in learning more about kettlebell lifting and how you can increase your work capacity? Contact Rick Huse for more information.
Enjoy the pain!
This blog was written by Rick Huse, CSCS, NIFS Health Fitness Specialist. To find out more about the NIFS bloggers, click here.