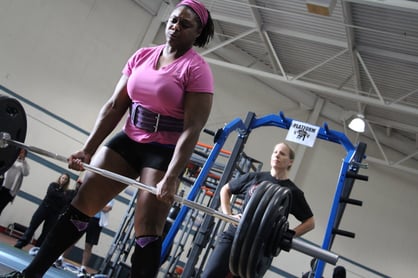 Weight-lifting belts have become a staple in many gym settings for powerlifting, Olympic lifting, bodybuilding, and strongman, and for anyone who wants to lift heavy loads. Whether you use them for training or on the competition platform, you need to know the ins and outs of weight belts so that you can make a smart decision.
How to Use a Belt the Right Way
Using a weightlifting belt is situational. It depends on several different factors, including the experience of the lifter, how heavy the load is in relation to 1RM (One Rep Maximum), as well as the number of repetitions in each set. Put on the belt as tight as possible with no room to slide your hand in, but enough room to allow a big breath and abdominal muscles to brace against it. It should be so tight that it's uncomfortable if worn for several minutes. Placement of the belt is often by preference, but generally an inch or two above the pelvis.
According to studies from the American College of Sports Medicine (ACSM), a weight belt is used to help generate intra-abdominal pressure. This means tightening your natural stabilizers, such as abdominal muscles and erector spinae muscles in your back in order to brace the spine and stay safe. A belt can also be used as a proprioceptive tool to teach you how to breathe and brace because it allows proper response to occur and gives you something to brace against. This creates a constant feedback loop because now you can actually feel your muscles bracing and pushing up against the tight belt. In turn, this increases stability for the spine and core and adds support. For the record, a weight belt won't protect against injuries caused by improper bracing and poor lifting technique. Not only is bracing an important skill to learn when lifting heavy loads at the gym; it can also keep you safe from back injuries even when you are just going through your daily life lifting objects here and there (ACSM).
Avoiding Over-reliance
Conversely, over-reliance on belts has been on the rise. It can lead to a weakened core and invoke ridicule if used when not necessary. Further research has shown that weight belts are known to spike blood pressure because of holding your breath, and have been linked to minor injuries such as hernias. Remember, the belt is needed only during the lift and only for exercises that mostly stress the lower back. It is not something to wear around the gym. A general rule of thumb from Barbend is to use the belt only for the lifts that are 85% or more of your 1RM. Lastly, investing in your own core strength by trusting yourself for lighter sets and saving the belt for heavy sets is a good way to improve core strength.
Types of Belts
There are several different types of weightlifting belts out there. Some use a single prong, a double prong, Velcro, or a lever to lock the belt tight throughout the lift. Organizations such as USA Weightlifting (USA-W) and USA Powerlifting (USAPL) have different specifications as to how wide and how thick the weight belt may be on the competition platform, thus creating a level playing field for all athletes.
NIFS provides a few options for weight belts, but don't be shy about bringing your own if you have one!
This blog was written by Cara Hartman, NIFS Health Fitness Instructor. To find out more about the NIFS bloggers, click here.