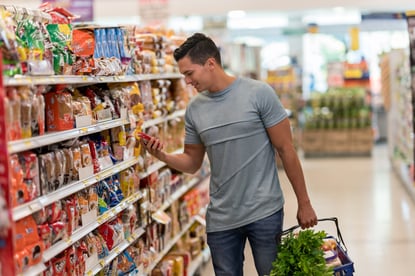 Standing in the bread aisle, flipping over the seventh loaf of bread, scanning the fine print, asking yourself which brand is best… Giving up trying different bread after five minutes and just picking what we usually go for—we've all been there! I want to help clear up the confusion by offering some recommendations on what numbers to look for and the most important places to look on the label to decide what brand is healthiest, whether that be crackers, bread, peanut butter, granola bars—you name it!
Whole Foods Are Best When Practical
I do recommend, if possible, trying to avoid packaged foods because they generally are more processed or refined than alternative options. For instance, veggie "straws" may be a good option every so often or for packing a quick side option in a lunch. There are some really great packaged options like Larabars that are often less than 7 ingredients and provide a really easy and filling snack, too. But try to make the most of your meal and opt for the real deal: baby carrots, celery, slices of bell pepper, etc.
Being realistic, however, how many of us will actually make the effort to make fresh, homemade bread every day? Of course it's easier to just pick up this staple at the store and put your time to even better use by going for a walk or spending more time with family and friends, right?
The Front Label
Let's take a look at the front of the package. In 2010, First Lady Michelle Obama invited the Grocery Manufacturers Association to introduce Facts Up Front. This voluntary labeling system takes a few key components of the larger nutrition facts label on the back and makes it easier for people to take a quick glance and decipher what they need to.
The Facts Up Front Label displays PER SERVING how many calories and how much saturated fat, sodium, and sugar is in each serving. Some labels may have other nutrients listed such as fiber, calcium, and potassium. Everything that we will discuss about the back of the package (in part 2 of this blog) applies to the front—this just breaks down everything into an easy-to-find, "per-serving" layout!
Nutrition Definitions
There are also a few definitions that are clearly laid out by the FDA that you may see on the front of the package:
Low calorie: 40 calories or less per serving.
Low cholesterol: 20 milligrams or less of cholesterol and 2 grams or less of saturated fat per serving.
Reduced: At least 25 percent less of the specified nutrient or calories than the usual product.
Good source of: Provides at least 10 to 19 percent of the Daily Value of a particular vitamin or nutrient per serving.
Calorie free: Less than five calories per serving.
Fat free/sugar free: Less than .5 grams of fat or sugar per serving.
Low sodium: 140 milligrams or less of sodium per serving.
High in: Provides 20 percent or more of the Daily Value of a specified nutrient per serving.
In part 2 of this blog, I'll go into detail about the information on the back of the package.
This blog was written by Lindsey Hehman, MA, RD, CD. To learn more about the NIFS bloggers, click here.