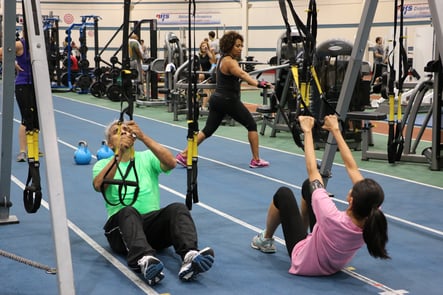 When most of us hear the personality type words introvert or extrovert, we think of them in terms of how people act when in a crowd or a room full of people. But have you ever thought about it in terms of your exercise environment? Are you the type of person who likes to have their headphones on and work out alone, or are you the more social type that gets more out of your workout when you are in a group or with your exercise partner? While both have their benefits, working out in a group is high on the list for many people today.
Working out with others provides a lot more than just someone to meet at the gym to check the workout off the list for the day. Even those who tend to be more introverted can learn that working out in a group setting can offer you something in the workout session you didn't even know you were looking for!
Let's take a look at some of the top reasons working out with others yields greater gains than being alone:
Motivation: Working out within a group can provide you with the motivation you would not get while working out on your own. Everyone needs a little motivation sometimes to push themselves to the next level, and working out with others allows that to happen naturally! And there are psychological theories that when others are present, productivity goes up.
Accountability: One of the main reasons that people join a group or find a workout partner is for accountability. While some are religious about getting their workout in, a majority of people need a reason to get themselves there. When you have a group that you feel is expecting you to come to class, you are much more apt to get there.
Inspiration: Chances are that within a group, someone has a story that will inspire you to keep going. Take time when working out in the group setting to get to know the others, listen, and hear their stories. You never know what will inspire you to keep going.
Group camaraderie: Not much needs to be said here; when the feeling of team is present, the connections are powerful!
More challenging: If you ever were or are an athlete, you know firsthand that when others are around you tend to perform better. When I played soccer in high school and knew that a college coach was going to be at a game to recruit from the school I wanted to attend, I would bring my A+ game and then some. When working out around others, you naturally challenge yourself more than if you were alone.
More enjoyable: Let's face it, working out with others is so much more fun! When you are by yourself there most likely isn't too much laughing, joking, and sharing in a challenging experience with others. And to top it off, when the gains are made, there is nothing better than getting to celebrate with someone else.
Social interaction: And last but certainly not least, we all need a little social interaction in our lives! Even the most introverted person needs to have interaction with other people, and what better place to do it than working out, since a majority of your time is exercising and not talking!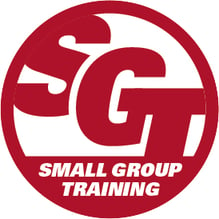 With all the benefits of working out in a group setting, it's no wonder that so many people gravitate in that direction. If you are looking for a great way to break into the mold of group training, try Small Group Training at NIFS and the benefits of training in a group firsthand!


This blog was written by Amanda Bireline, Fitness Center Manager. To find out more about the NIFS bloggers, click here.