Hello NIFS friends! Have you noticed that your metabolism is slowing, weight is harder to keep off, or that your strength is fleeting? Well, you are not alone; many people like you struggle with these issues. Although there are quite a few reasons for people to fall behind on their goals and feel dissatisfied with their health and wellness, this blog is dedicated to simply standing up (literally) and taking on the day with the mindset that all movements matter, no matter how small.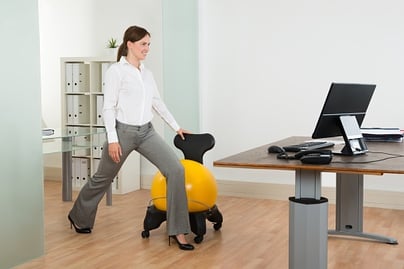 The More You Move, the Healthier You Can Be
As kids, play and exercise were more active for many of us in the olden days. Some of us couldn't sit still for five minutes and were constantly moving. It was part of the job! With that being said, there were some kids who ate food as if they had a hollow leg and never gained as much as an ounce of fat. It's not challenging to correlate the links between activity, metabolism, and wellness; the more daily exercise you have in your life, the more control you can have of your overall health (and excessive sitting has many risks).
Furthermore and along the same lines, the decline of activity in our lives can almost always parallel the decline of not only health, but also muscular development, body composition and resting metabolic rate numbers, and increased chances for injury. Without a doubt, nutrition is key to improving overall body composition, but without exercise, often we see many consequences that can leave us dissatisfied with our well-being.
How to Sit Less
My challenge to you: SIT LESS. During your daily routine, try to move more and be idle less. At the gym, if you have an exercise that includes sitting, find a way to work the same muscle group standing up. An example of this would be a standing chest press on one of the dual cable cross machines. Not only are you working chest, shoulders, and triceps, but you are also developing core and balance, which might not be achieved using conventional chest press machines. This is just one example out of hundreds of exercises that can change and challenge your fitness game plan.
If you are interested in learning more about these types of exercises that can get you up and moving, contact a Health Fitness Specialist or personal trainer at NIFS. While an HFS can make your personalized workout exciting and safe, personal training can take your fitness experience to the next level with motivation and accountability. Whatever the case may be, TAKE A STAND, for your health.
Muscleheads, rejoice and evolve!

This blog was written by Thomas Livengood, Health Fitness Instructor at NIFS. To find out more about the NIFS bloggers click here.