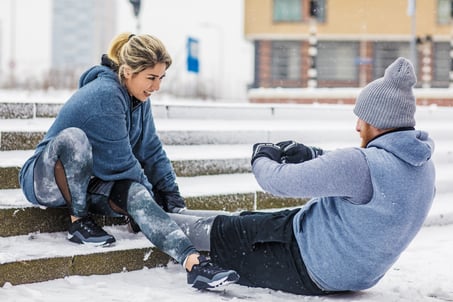 There is no debate that it's easier to make healthier choices and lose weight in the spring and summer months. The sun is shining and warm, the days are longer, and you feel motivated to get outdoors and be active. But when the cold, harsh months of winter come around, all motivation goes out the window. Let's take a look at ways to keep your motivation high and get over those hurdles of temptation.
Temptation Is All Around
The cold months are full of occasions that bring temptations. Hot chocolate, cookies, cakes, holiday parties, and family and friend gatherings are everywhere. If you're not careful, it can be easy to slip into the mindset that all indulgences are bad. When you label your food choices as "good" and "bad," every decision becomes a loaded one. Any time you stray from your eating plan, you might feel a bit of guilt or shame. These emotions can trigger the body's stress response, and when stress is involved it can set you up for more trouble.
Instead of sweating over the "shoulda, coulda, wouldas," try making food choices that are right for you. Plan ahead, or maybe choose one small indulgence per day to satisfy your sweet tooth and engage in those fun winter activities.
Come Out of Hibernation and Get Motivated to Exercise
The snow is falling and ice is everywhere. The days are still short and daylight is minimal. Winter itself is enough to tank your motivation to exercise. Who wants to go out into the freezing weather to go for a run or to the gym when you can curl up on the couch with a blanket and be perfectly content? There are tons of ways you can stay active from the comfort of your own home.
Stay active while watching your favorite show or movie: Every commercial/intermission, get up and knock out a circuit of 10 pushups, 10 squats, and 10 crunches. Maybe even jog in place until the show comes back on.
Use apps: We have cut the cord when it comes to cable. We use our Apple TV, which is just like having an iPhone on your TV. Download an exercising app that you can play on your TV and get a quick 15–20-minute workout.
Keeping up with a fitness routine will help with more than weight loss. The benefit of working out is that it gets oxygen to the cells, keeps your body working, and gets you energized.
Staying Hydrated
It is so easy to indulge in all the sweet, alcoholic seasonal drinks such as eggnog. Don't forget to make sure you are staying hydrated. Fun fact: According to a 2003 study on the metabolic effects of different water temperatures published by The Journal of Clinical Endocrinology & Metabolism, when you consume liquids that are colder than your core body temperature, your body has to work to warm it up, and it burns extra calories in the process. So consider drinking ice water instead of hot chocolate!
Drinking water can give your immune system a boost and prevent you from getting sick during peak cold and flu season. Drinking water can also increase your metabolism and help you feel full longer. This in turn could help curb your appetite and enable you to maintain healthy eating habits.
Come Visit Us!
Get bundled up and come and see us. We would love to have you in one of our classes, write a program for you, conduct your assessments, provide training for you, or be here to walk around the track with you. Whatever you need from your staff at NIFS, please ask and let us help set the tone for the new year!
This blog was written by Ashley Duncan, NIFS Program and Weight Loss Coordinator. To learn more about the NIFS bloggers, click here.